I went to many music festivals in my twenties. Planning involved little more than a trip to the cash point so that I would have enough money to spend on cocktails, beer and fast food.
Now I travel with three children and a freezer bag of food.

This change is due as much to convenience as it is for economic reasons; it is as quick to whip up a pan of pasta pesto than it is to queue for five meagre plastic plates that have to be consumed standing up, three portions of which may not go down well with the children, who accept or reject dishes with their tiny group mind.
I have eaten well at festivals over the years; Hugh Fearnley-Whittingstall's mackerel burgers at Port Eliot and Leon's veggie platters at the Big Chill were real treats. And I have eaten poorly, sampling under-salted vegetarian gloop from every corner of the globe.
So here we are packing and prepping for festivals. I plan for three days' worth of dinners. Festival breakfast is a more chaotic affair than a normal camp breakfast due to the large amounts of ale downed the night before; we pack plenty of chocolate croissants so that the children can help themselves while I attempt to rouse Math with a cattle prod.
Day 1: Family festival pie
When Math compered a day at the Free University of Glastonbury, he had to interview the writer, campaigner and comedian Mark Thomas. During the conversation, Math admitted that his family had been – for two days – dining off an enormous Glastonbury pie. "I really hope that is true," said Mark Thomas. It was.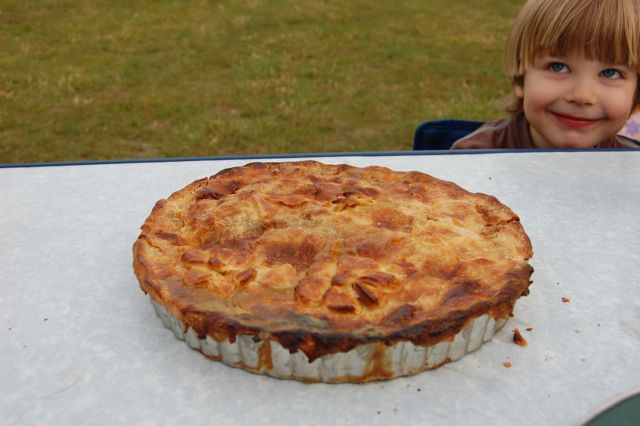 For festival pie to be the perfect one dish meal, it needs protein and a portion of vegetables to go along with the carbohydrate pastry case. Hot water crust pastry is my favourite type of pastry as it is so easy to make and can be rolled out pretty thinly, because I am not keen on a pastry-heavy pie.
Recipes
Beef pie with slow-cooked onions and greens recipe
Sausage rolls recipe

Day 2: Quesadillas

Quesadillas don't leave much washing up, which you should always be mindful of at festivals where there is only ever a stand pipe. Many festival goers break out the bacon and eggs but it's not easy or pleasant to wash up after such a greasy meal.
The quesadillas should be spicy with grated cheese, but other than that, choose your favourite fillings. This is how I like mine, with spiced black beans (made at home), grated cheese, olives, avocado, spicy tomato salsa (shop bought or made at home) and if you can store it, Greek yogurt or soured cream.
Warm up a frying pan on the stove. On a tortilla, spread some black beans then add olives, spicy tomato sauce, avocado, a squeeze of lime, yogurt or cream and a handful of grated cheese. Roll the tortilla up and warm it in the dry pan for a couple of minutes, turn it over and cook again on the other side.
Recipes
Quesadillas
Pasta pesto
Super quick and something I know will fill the children up, and it won't spoil when the ice packs lose their cooling power.
Day 3: Stew from tins
It's day three at the festival. Let's open some tins. If you make the spice mix at home this is a simple recipe to make even at a festival and will probably save you £6 a head.
Recipe
Moroccan chickpea stew, serves two