At campsites and festivals, we get inquiries about our tent, the Vaude Badawi II. When it appeared in the background on the BBC camping documentary Britain Goes Camping, Mumsnet lit up with curiosity.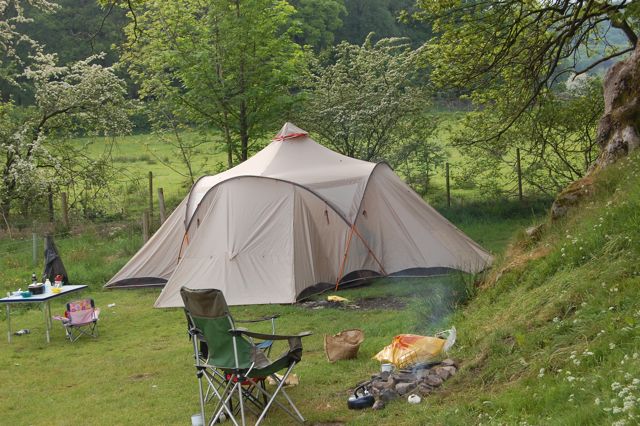 The sand-coloured Vaude Badawi II is a pyramid rising to a ventilated apex, with three bedrooms sloping off the sides. The designer Tommi Langowski was inspired by the old pyramid tents used by expeditions. He improved this classic design by removing the central pole and replacing it with an ingenious four-legged spider pole that provides supportive ribbing for the roof. As a result, the living heart of the tent is roomy, high and uninterrupted.
[ad#Google Adsense-solid bar]
Unlike the big family tunnel tents, the bedrooms are low-ceilinged and modest which makes them much warmer if you are camping out of summer season. Sleeping in the inner tent is like being in a small two-men tent. Step out into the living area and there is plenty of well-ventilated living space. The groundsheet and fly sheet are not stitched together, leaving a gap of about two inches between the grass and the bottom of the fly sheet. As long as you peg the fly sheet so that rain runs straight off the tent and into the ground, the interior remains dry. I prefer not having an integral groundsheet: the tent is less likely to rip and the air circulates freely so that even on a scorching morning, the interior remains cool.
The Vaude Badawi II weighs just shy of twenty kilos and we use it to sleep three children and two adults. Over two years, we have taken it out about twenty-six times, to tiny campsites and festivals. The only flaw is the little rain hat that balances upon the apex of the tent, which is effective but almost impossible to pitch tidily or with any dignity.
Vaude's website, as of 2011,  lists just the Badawi and the Badawi Long as current tents, but the Badawi II is still available.