Treats that mix sweet and spice work best around the campfire, the sweetness satisfying your craving for energy, the heat of the spice matching the fire and woodsmoke. Gingerbread satisfies both tastes.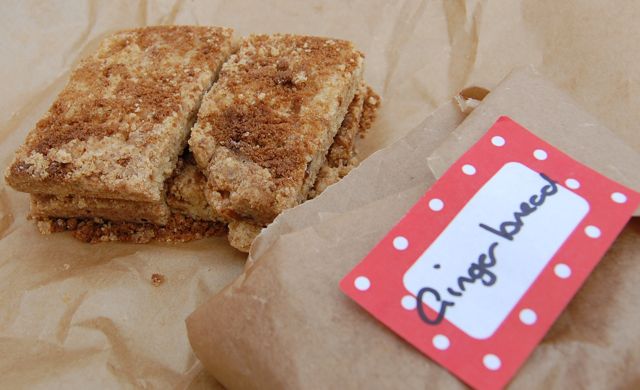 Ingredients
250g plain flour
100g soft light brown sugar
125g unsalted cold butter, cubed
1 tsp baking powder
2 tsp ground ginger
1 pinch of salt
For the topping
1/4 tsp ground ginger
20g soft light brown sugar
Method
Set the oven to 160oC (gas mark 2, 310oF).
Line a swiss roll tin with greaseproof paper.
Rub the butter and sugar together until they look like breadcrumbs.
Sift in the flour, baking powder, salt and ginger.
The dough is too short to roll out, instead you have to press it into the swiss roll tin, making sure it is evened out on the top.
Mix the topping and sprinkle it in the dough.
Cook for about 20 minutes, but check after 15.
It should be light brown in colour, but not too dark.
As soon as you take it out of the oven, mark it out into 16 rectangles with a sharp knife. Prick each one a couple of times with a fork.
Leave it in the tin to cool a little and then finish off cooling on a baking tray.
Gingerbread will keep well for about four days in an airtight container.