I have wanted a tarp for a while now to create a sheltered area outside of the tent under which I could cook or loiter during a long rainy day. The Terra Nova Tarp Shelter is not cheap but it is extremely light and shimmers to the touch in a pleasingly quasi-organic fashion. The good people of Idealo.co.uk were kind enough to send me one to test out and you can find similar products on their site here. The Terra Nova Tarp Shelter is here.
The tarp comes without guy ropes or poles. Fortunately I had a some lying around, left over from my previous aborted attempt to turn a spare groundsheet into a tarp. I set to improvising the best way to set the tarp up, eventually arriving at this set up attached to my tent.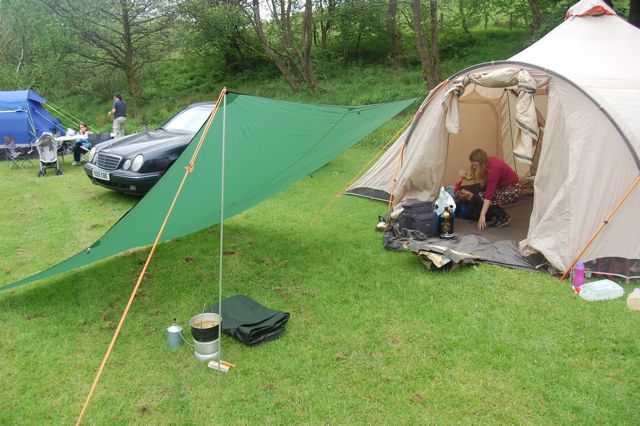 If camping near a tree, I would have used a high branch instead of the exterior of our tent. There is a loop in the middle of the tarp that – if strung up to a tree – would make it drape in a triangle shape, ideal for sleeping under during a wild camp.
When the rain came, I cooked under the tarp and made a few notes on how to improve the pitching of it next time out. I'll need more guy ropes, for a start. The tarp is full of possibility, a shelter against the sun, the wind and the rain. That's why I've always hankered after one. I feel that I am only at the very beginning of mastering my tarp skills.
Update
The following weekend we camped at Forgewood in Kent in the pitch known as Nick's Nook. This gave me the chance to pitch the tarp without poles and tethered to the surrounding trees. It makes such pleasing shapes.