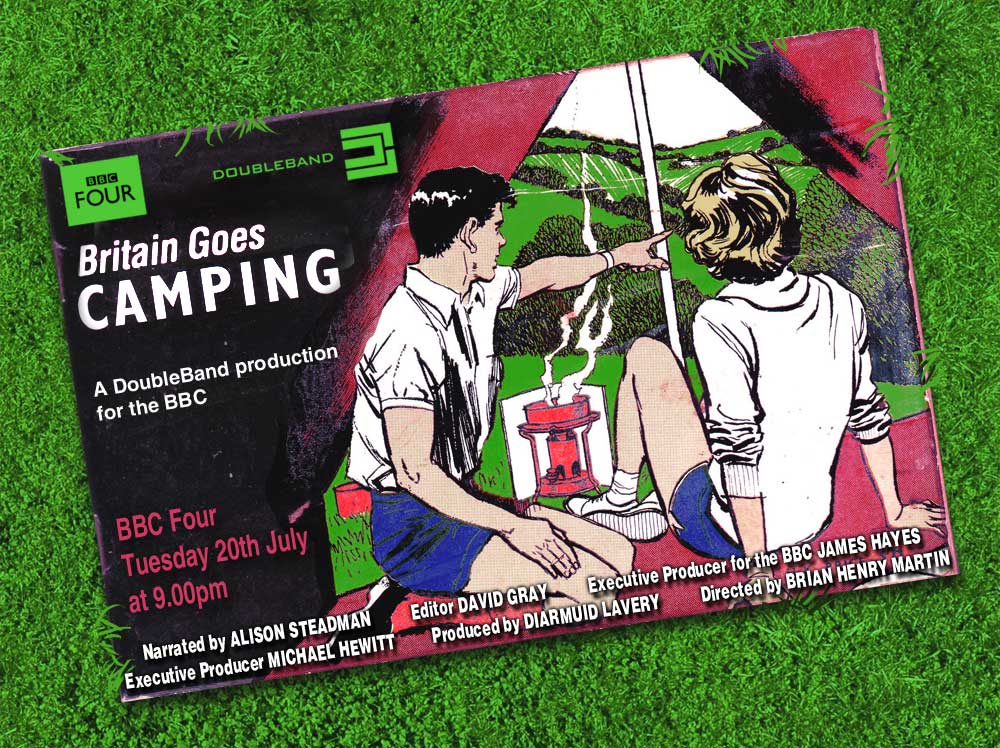 Britain Goes Camping is a new BBC documentary from Brian Henry Martin and Doubleband Films, showing on the BBC iPlayer now.
After a successful premiere on BBC4, Britain Goes Camping will be shown on BBC2 at 10pm on Sunday 8th August, a sign of both the documentary's and the subject's appeal.
Earlier this year, Cath and myself spent a day filming with Brian and his small crew, and some of that interview footage is included in the programme. This is my favourite section as it includes a close-up of my Dad as a young man
The crew accompanied us on an early Spring camp in March. The ground was hard with frost and the trees were bare. The first camp of the year is invariably disorganised and fretful, but in this particular case, circumstances were against us; Cath seemed shivery and weak and I was aware of a sickness creeping upon me. But Brian and his crew had travelled from Ireland for the filming and there was no way I would disappoint them so we pressed on, prepping and packing for a cold night outdoors.
"Had the TV crew  stuck around, they would have witnessed horrors"
The crew put us at our ease, thanks to Brian's careful and friendly manner. But due to our growing illness, any hope we might have entertained as to putting on good front was quashed; we undertook our child and tent tasks with our characteristic stoicism, but we lacked the energy to brush our hair and scrub the crayon from the walls for their arrival. After a brief interview at our flat, we headed into the outdoors.
At the campsite, we erected the tent and then conducted separate interviews with Brian. Once filming was done, the crew departed for their bed and breakfast. The night fell quickly, and the land grew cold. Cath shivered. I broke out in a sweat. In any other circumstances, I would have broken camp and headed for home. But I couldn't. The scandal about television fakery was uppermost on my mind, of people pretending to do things and then not. I would not go on camera eulogising camping and then break for home at the first sign of trouble.
Had the TV crew stuck around, they would have witnessed horrors.
"No, I would not be a TV faker. We would stick it out"
I lit a fire and the barbecue but was unprepared for the overwhelming blackness of the night. The barbecue has a lid and so was effectively invisible to the small children swarming around me. The fire made no inroads into the dark. For safety's sake, I decided to tip the barbecue into the fire, burning my fingertips in the process. Agony! I ran around in the blackness wailing my lot, cursing my condition, chased by hungry screaming children. A handful of sausages survived the crisis. The two toddlers wolfed them down. Neither Cath nor myself felt like eating, and our eldest child was swaying and sickening.
Surely I should drive us home.
No, I would not be a TV faker. I would not join the ranks of the pampered presenters who had cut and run. The honour of camping was at stake.
In retrospect, I was far too mad at this point to drive. Mad with the night, and the sickness. We attempted bedtime. A fitful hour of sleep was had, and then the vomiting began.
We had swine flu.
One unexpected consequence of inoculating the toddlers against swine flu was that they were bursting with energy and wanting attention and activity at the same time as Cath, myself and our eldest daughter, Alice, were crawling around the groundsheet in a hallucinatory condition of perpetual evacuation.
At four in the morning, the only one of our party still awake, I spent a tense five minutes thinking I was about to die. Ever considerate, I did not wake Cath to inform her of this, reasoning that it would be better for everyone if they slept through my death, and then cleared up after me in the morning.
Could I drive home now, I wondered? Waking the children and loading them into the car was easy. Driving along dark field and the night lanes less so. And there was the risk, what with my impending death, that driving might be beyond me.
No, I would not be a TV faker. We would stick it out. The swine flu wrung me out like a wet cloth, then dawn arrived with its meagre gifts, a weak grey haze and two spoonfuls of warmth.
The sickness abated. I took the family to a National Trust cafe. The toddlers fell ravenously upon the cakes while their filthy stinking parents ignored the quizzical looks from the other families, so immaculate in their unstained skiing jackets.
I look forward to watching Britain Goes Camping, and to discovering what Brian and his team have unearthed concerning the history of camping; Hopefully, in my brief appearance, I do not come across as unduly deranged.