Camping requires a lot of planning and prep. Don't leave the first meal to chance. After all that packing, travelling, unloading, and pitching, you deserve to eat something good in front of the perfectly pitched tent.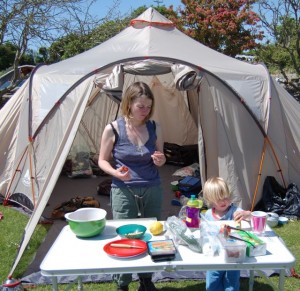 The trip to the supermarket to load up on pre-packaged picnic stuff just doesn't do it for me anymore, hauling mounds of plastic pasty wrappers to the bins is not only embarassing, but a major hassle. Some sites make you take your rubbish home, this really gets you thinking: one way to leave no trace is to take your food with you in proper reusable containers.
After the exertions of the day you need something filling, nutritious, easy and lovely. The key is to get a one-pot meal that contains everything you need: carbs, protein, vegetables with maybe some bread to spin it out. Good containers to transport your meal with tight-fitting lids are needed. Once cleaned, they can be used again during your trip to keep other foods fresh.
It's beer o'clock and someone in your party is likely to be shouting "Where's me dinner?" Take it with you, heat it up, problem solved.
Cath's Just Pitched Dinners
– Spanish meatballs
– Veggie chilli
– Spanish tortilla
– Chicken pie