Sardines are good value compared to other fish and their oil content makes them perfect for a spicy sauce and will help keep the flesh moist on the barbeque. Stopping fish from sticking on the grill can be a problem, but a light coating of oil on the skin and a fish holder will see you right. I make the Moroccan chermoula at home and take it camping with me in an airtight jar, where it will keep for a week.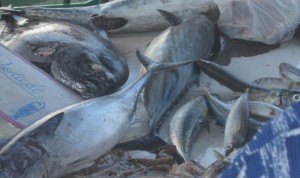 Chermoula
Ingredients
1 tsp paprika
A pinch of chilli flakes or cayenne pepper
1 tsp cumin seeds, ground
4-6 tbs olive oil
2 garlic cloves, crushed
80g (large bunch of) coriander, chopped
Juice of 2 lemons
Salt to taste
Method
Crush the garlic, chilli flakes and salt together in a pestle and mortar, then add that mix to the other chermoula ingredients. Taste, spice it up if you want a stronger sauce but remember you only using a teaspoon or two for each fish. As with any marinade you need to leave it for at least half an hour, preferably longer for the flavours to soak in.
To prepare your sardines and couscous
Ingredients
1 or 2 sardines per person, if you are serving other meat or fish
Olive oil for brushing
Couscous
2 tbs herbs such as mint, parsley and/or coriander chopped
1-2 tbs olive oil
Juice of ½ lemon
Salt and pepper
Equipment
Barbeque or campfire
Fish holder
Teaspoon
Method
Gut and rinse the sardines and put a teaspoon or two of the chermoula in the cavity of each fish. Rub the skin lightly with olive oil and leave for at least twenty minutes, longer if possible. Over medium heat on the barbeque or campfire place your sardines, turning once, very carefully. A fish holder is useful as it stops you losing your fish to the sticky bars of the grill. You can see the flesh turn from translucent to opaque when they are cooked. Serve hot with couscous.
To go with your fish, serve instant couscous which is ideal for outdoor living, following the instructions on the packet. Once the couscous is rehydrated add the olive oil, lemon juice, herbs, salt and pepper, stir well with a fork to separate the grains.