Wednesday is veggie curry night at home, as we cut down on the amount of meat in our diet. I've transferred this family ritual to camp. The Wednesday aspect is entirely optional but the day – being so middling, so unexceptional – requires a sense of occasion to lift it.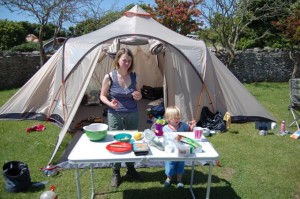 Prepare garlic and ginger paste at home to reduce chopping chores, and this paste can be used in other cuisines too. If you grind your own spices then do this at home or just take a good quality ready-made garam masala.
I like a variety of dishes for my Wednesday dinners: a pulse dish, a cheese dish and a vegetable-based dish. Whether you serve rice and bread really depends on how much space you have on your stove: shop-bought chapatis thrown on a barbecue grill for ten seconds a side will do.
– Garlic and ginger paste
– Chana masala
– Saag halloumi
– Tomato and onion salad
– Spicy minted peas