The retort of hunters' guns sounded throughout our stay at Forgewood campsite on Eridge Park. Wandering through the forest, we startled a small deer. At the sound and sight of us galumphing over splintering wood, the deer fled in one flash of his white tail, back toward the hunters. When we returned to the campsite, we asked if they sold any venison shot on the estate. They did. And so I devised this stew for the campfire.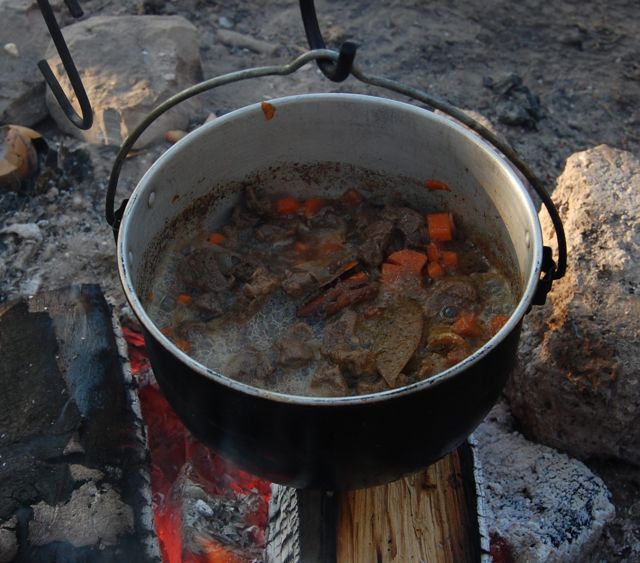 Serves 4
Ingredients
4 venison steaks, fat trimmed and cubed
1 onion, diced
1 large or 2 small carrots, diced
2 cloves of garlic, peeled
Olive oil
Knob of butter
Couple of tablespoons of plain flour
Salt and black pepper
3 cloves
1 stick cinnamon
3 or 4 cardamon pods
1 bay leaf
Two slivers of orange peel
Method
Marinate the venison in oil, salt, pepper, bay leaf, onion and carrot for about an hour.
I cooked this stew in a large, lidded billy can over a wood fire, but it could be done in any lidded pan on a gas stove. I heated a pan over the fire and put in the marinated meat. Once the meat was browned all over, I added some water, the spices and orange peel, put the lid on and left it cooking for half an hour or so.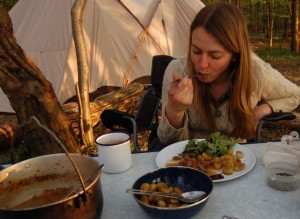 Meanwhile I made a thickener with flour and soft butter, mushing it with the back of a fork until completely incorporated. I mixed this thickener with a bit of the liquid from the pan and then stirred it all into the stew. I cooked the stew some more, regularly stirring it and checking it had enough liquid. Once the meat was tender, I crushed the garlic against the side of the pan and stirred it in. Once seasoned the stew was served with fried gnocchi and a watercress, raisin and pine nut salad.